Comfortable, modular, AND the style options are endless? Ladies and gentleman, allow us to introduce our most versatile sectional. We don't normally play favorites, but we can't deny Nixon is something special.
It all comes down to the versatility factor. Using a modular design, this sectional can be mixed, matched, pulled apart, and put back together again. Basically, however your room flows, Nixon can be easily moved around to give you the best possible layout.
And don't even get us started on the styling possibilities. The cool (and did we mention super comfy?) design can pretty much take any on any trend. But don't just take our word for it. See how we achieved three different looks just by switching out the décor.
ARTFUL BOHEMIAN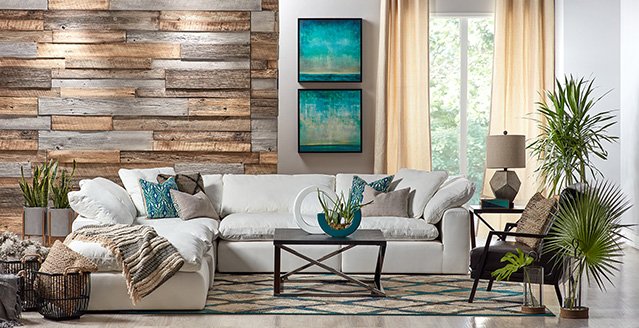 We're unleashing Nixon's earth-child, boho spirit with this first look. The key was artsy pieces—like the watercolor wall décor and shapely vases—in saturated jeweled tones. Then we pulled in some nature with plenty of greenery and organic textures. The off-center coffee table and graphic rug finish the eclectic feel.
MIAMI MODERN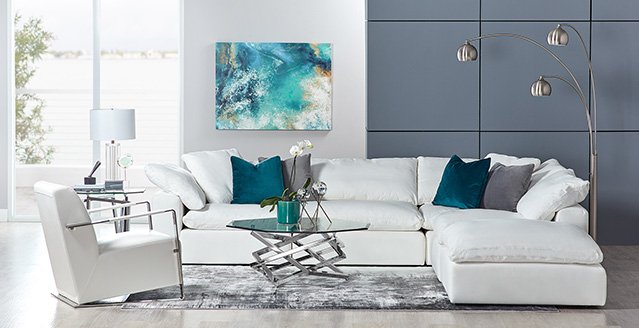 Next, if sleek modern design is more your style, then Nixon is here to please. The sectional went from artsy and organic to edgy and cool with just a few accessory changes. It was all about making it shine with chrome accents, like the structural coffee table and sweeping floor lamp. We continued to play with textures and materials with the plush area rug and velvety pillows.
SOHO SLEEK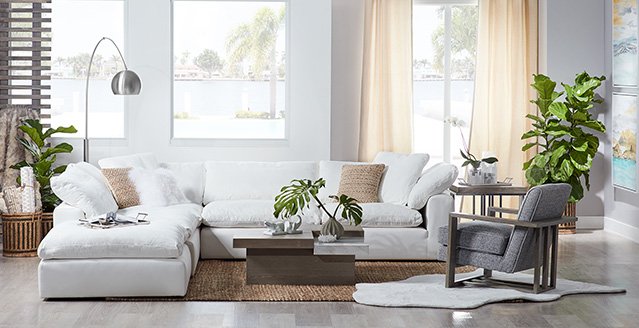 Do you like a contemporary look without all the drama? This versatile sectional makes the transition flawlessly. Here, we took a softer approach to modern by trading out the glossy décor for a more muted palette. The lines are still clean and fresh, but the dry finishes, neutrals, and greenery make it less edgy and more inviting.
FAMILY-FRIENDLY PERFORMANCE FABRIC
Finally, no matter how you style it, the great news is that Nixon is covered in family-friendly LiveSmart performance fabric. The heavy-duty fabric is made for real life, with moisture-repellent and stain-resistant technology. Also, it features reversible cushions with barrier protection. So when spills happen, your white sofa will stay looking as new as the day you got it.